Kent CNC Machine Tools 33 years in service
When you service CNC machines for a living you listen to customers
and learn what they like in CNC machine tools.

Our goal is to help our customers get their job done precisely, productively, and profitably.
By partnering with the best people and companies in the industry and by working together with a common vision.
Our success comes when our customers are successful.

Offering quality machinery at competitive prices with superior service and support to our customers.

When other machine tool builders delivery is out months to a year
Kent can have machines on your floor in weeks

*Using FANUC 0i controls on Machining & Turning Centers The industries most used and reliable control
Known for their 15 year average uptime. I have had controls, drives and motors last 20 to 30 years without a failure


*Other features include High Speed machining, PCMCIA cardslot, AC Digital Drives
Feedrate Overide Knob not 10% pushbuttons, 6" spindle cartridge, 40MM Ballscrew, Extra Wide table
Rigid tap, Chip Auger, Ethernet, Glass Scales, Full X, Y,and Z guarding
Using both Linear Guideways for faster ipm's and Box Ways for rigidity


*Acu-rite Millpwr & Fagor 8055i controls Knee Mills and Bed Mills use conversational, intuitive controls
for ease of use in the Toolroom

Arch City Service St Louis, MO 314-638-1227 800-746-9550 rich@archcity.net


Kent Website Link www.kentusa.com/
IIII
IIII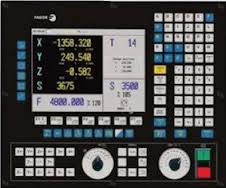 Kent CNC Knee Mills and Bed Mills
Knee CNC Mill Acu-rite Conversational Control 2 or 3 Axis operation
10" x 50" & 12" x 54" tables 3HP Inverter drive spindle
Mid 20's
CNC Bed Mill Fagor 8055i control
sizes 32" x 18" x 18" 38" x 20" x 20" 5.5" Quill travel
7.5 HP Frequency drive Spindle
Great for the Toolroom




Kent Compact Machining Centers
KVR-2418 Travels 24" x 18" x 18"
10/15 HP CAT40 10,000 RPM spindle 16 tool Carousel Type ATC (opt. Arm Type)
1280 ipm rapids Starts at mid 50's
JM-450 Anilam 3500i control Travels 18" x 13.5" x 13"
7.5 HP CAT40 10,000 RPM spindle (opt 12,000, 15,000)
10 tool Carousel Type ATC 1280 ipm rapids




Kent Small Machining Centers
KVR-3618 Travels 35" x 18" x 18"
10/15 HP CAT40 10,000 RPM spindle 16 tool Carousel Type ATC (opt. Arm Type)
1417 ipm rapids
KVR-60 Travels 23" x 20" x 20"
10/15 HP CAT40 8,000 RPM spindle (opt 10,000)
24 tool Arm type ATC 1416 ipm rapids




Kent 33" & 43" Machining Centers
KVR--85 Travels 33.5" x 21.5" x 21.5"
10/15 HP CAT40 10,000 RPM spindle 24 tool Arm Type ATC
1181 ipm rapids (opt 1652)
KVR-110 Travels 43" x 21.5" x 21.5"
10/15 HP CAT40 (opt CAT50) 8,000 RPM spindle (opt 10,000, 12,000, 15,000)
24 tool Arm type ATC 1181 ipm rapids (opt 1652)




Kent 51" & 40" Machining Centers
KVR-130 Travels 51" x 26" x 22"
20/25 HP CAT40 8,000 RPM spindle (opt 10,000) 24 tool Arm Type ATC
1181 ipm rapids
KVR-1065 Box Ways Travels 40" x 25" x 24"
15/20 HP CAT40 (opt CAT50) 8,000 RPM spindle (opt 10,000)
24 tool Arm type ATC 1181 ipm rapids upper 90's




Kent Box Way 47" & 59" Machining Centers
KVR-1268 Travels 47" x 27" x 24"
15/20 HP CAT40 (opt CAT50) 10,000 RPM spindle 20 tool Arm Type ATC
1181 ipm rapids
KVR-1580 Travels 59" x 31" x 27"
15/20 HP CAT40 (opt CAT50) 10,000 RPM spindle
20 tool Arm type ATC 1181 ipm rapids )




Kent Box Way Open Frame Machining Centers
S-1500 Travels 60" x 30" x 28"
10 HP CAT40 6,000 RPM spindle No ATC 240 ipm rapids
S-2000 Travels 78" x 32" x 28"
15 HP CAT40 6,000 RPM spindle No ATC 240 ipm rapids
TW-50MCO Travels 50" x 22" x 22"
10 HP CAT40 8,000 RPM spindle
20 tool Carousel Type ATC 240 ipm rapids )
TW-40MCO Travels 40" x 20" x 22"
10 HP CAT40 8,000 RPM spindle
20 tool Carousel Type ATC 240 ipm rapids Mid 60's )




Kent CNC Teach lathes
CSM-1440 Travels 14" x 40" 5 HP 2,000 RPM spindle 1.5" Bore
CRL-1640 Travels 16" x 40" 7.5 HP 2,000 RPM 2 spd spindle 2" Bore
CNL-1740 Travels 17" x 40" 10 HP 3,000 RPM 2 spd spindle 2" Bore
KLS-1840 Travels 18" x 40" 7.5 HP 1,800 RPM spindle 3" Bore
KLS-2660 Travels 26" x 60" 10 HP 1,300 RPM 3 spd spindle 4" Bore




Kent CNC Slant Bed lathes
KLR-15 Swing 13" Centers 12" & 24" 20 HP 6,000 RPM spindle 8 Tools 1.7" Bore
KLR-200L Swing 13" Centers 40" 40 HP 6,000 RPM spindle 8 Tools 2" Bore
KLR-300 KLR-400 KLR-600 Swing 19", 26", 35" Centers 43", 47",55", 82" 40 HP 6,000 RPM spindle
12 Tools 3", 4.7", 4.5" Bore
KLM-200 KLM300 Subspindle Swing 10", 11", 16" 18" Centers 19" & 24" 20/10 HP 6,000 RPM spindle
12 Tools 2" Bore
KLM-300 Live Turret and Y axis Swing 18" Centers 44" & 24" 25 HP 4,500 RPM spindle 12 Tools 2" Bore




Kent Manual & Automatic Feed Grinders
KSG-618 & SGS-816 6" x 18" & 8" x 16" 2 HP
Automatic Grinders Sizes 8x18, 10x20 12x30 16x40 20x40 24x48 24x60 24x80 34x68 34x88
Double Column Grinders Sizes 47x79 48x120 47x157 47x196 48x120 78x200

IIII


Fanuc 0i Control
Most widely used control Standard of the industry
Most Reliable - average 15 year uptime Canned Cycles, graphics, G54 offsets, Tool offsets


Fagor 8055i Control
Conversational/G-code ProgrammingUp to 1MB RAM, Rectangular and circular pockets,
Drilling, Threading, Graphics, USB Program Input, Turning, Facing, Grooving
Feedrate Overide Knob, Concurrent Programming


Anilam Controls
Conversational Programming Icon based, Large Memory, Canned Cycles, Rigid Tap,
Advanced Look Ahead, Easy to learn, DXF file translator, Offline Programming

MACHINIST JOKES CNC HUMOR

You know you bought a bad CNC when:
*Fadal- Lower corner of screen has the words
"Etch-A Sketch" on it
*Haas- For a better RS232 connection, salesman sells
you a set of rabbit ears
*Mazak- To start it you need some jumper cables
and a friends car
*Cincinnati- The "quick reference guide" is
120 pages long
*Daewoo-Tech support number is a New Jersey Applebee's
*Mastercam- Failure is not an option
it comes bundled with the software
*Mori Seiki- Whenever you turn it on all the
dogs howl
*Fryer- Delivery !?! You need the machine when?
*Makino- Make a small ritual sacrifice
before turning it on
*Hardinge - Spindle Load meter consists of two
Miller High Life cans tied to a Die Hard battery.
*Okuma- Sure our machines suck
but they are expensive as hell
*Hurco- Maintenance manual has only one
sentence "Good Luck"
*Milltronics- The only chip in the control is a Dorito
*YCM- Breakthrough: It finally booted on the first try.
*Bridgeport- Excellent addition to your
paperweight collection

*Asking if a CNC can think is like asking if
a submarine can swim
*To the competition:
May the bugs of many programs nest
in your Hard Drive
*CNC science:
Solving todays problems tomorrow
or next week
* State-of-the-art: any CNC you can't afford
Obsolete: any CNC you own
*The last person that quit or was fired
will be held responsible for everything
that goes wrong
*Programmers don't suffer from stress.
They are carriers.

*Real CNC Machinists don't eat quiche.
Real CNC Machinists don't even
know how to spell quiche.
They eat Twinkies, Coke and
palate-scorching Szechwan food.
*Real CNC Machinists don't bring
brown bag lunches to work.
If the vending machine sells it, they eat it.
If the vending machine doesn't sell it,
they don't eat it.
Vending machines don't sell quiche.
*Real CNC Machinists don't believe
in schedules.
Planners make up schedules.
Managers "firm up" schedules.
Frightened operators strive to meet schedules.
Real CNC Machinists ignore schedules.
*Real CNC Machinists don't read manuals.
Reliance on a reference is a hallmark
of the novice and the coward.
CNC Laws:
*Whatever happens act as though you meant to
happen
*When you get to the point where you really
understand your CNC it is obsolete
*When the tough get going, upgrade
*For every action there is an equal and opposite
malfunction
*He who laugh lasts probably made a backup
*If at first you don't succeed, blame the CNC
*A complex CNC that does not work invariably is
found to of evolved from a simpler CNC
that worked perfectly

What do you say to a CNC operator in a
three piece suit?
Will the defendant please rise?

Doing it right is no excuse
for not meeting the schedule.

The only thing good about "standards"
in Machining is that there are so
many to choose from.

*To err is human, to forgive
is not company policy.